FIUteach Robert Noyce Scholarship Program

Thanks to a generous grant from the National Science Foundation, FIUteach students are eligible to apply for the Robert Noyce Scholarship Program.
The semester amount of the FIUteach Noyce Scholarship is up to $9000. Awards are only disbursed during the Spring and Fall semesters. Students may be eligible to receive the scholarship for up to one to four semesters.
In addition to funding, recipients also have the opportunity to participate in:
Biweekly cohort experiences
Research and instructional internships
Mentorship from faculty
Seminars
Postgraduate support by FIUteach faculty/staff while transitioning into the teaching profession

Students are supported in building foundational knowledge and skills to effectively serve students in the highest-need schools.
In addition, Scholars may be selected to attend Annual Noyce Conference with the Principal Investigator.
Apply to the Scholarship Program
Applications for the Spring 2023 semester are open to all eligible FIUteach students. 
Eligibility criteria for the FIUteach Noyce Scholarship include:
U.S. citizen or permanent resident
Major: Biology BS, Chemistry BA, Physics BA/BS, Earth Sciences BA and or Mathematics BA
Cumulative GPA of 2.5 or higher
Have taken at least 1 credit of FIUteach courses
FIUteach students who have declared the "education track" are preferred. Contact Sonssire Tapanes at stapanes@fiu.edu to declare this track
Students within two years of graduation preferred*

*Sophomores (students who have taken 30+ credits, or within three years of graduation) can participate in the FIUteach Noyce Recruitment Workshops. Participants attend the biweekly workshops and receive a stipend of $200 per semester for up to two consecutive semesters. Participation is not required, but is preferred for consideration for the FIUteach Noyce Scholarship for the following year.
Scholarship Conditions
Noyce funding comes in the form of a forgivable loan. Students receiving the scholarship must the maintain satisfactory academic progress, including at least a 2.5 GPA and full-time enrollment. Upon graduation, recipients are required to teach for one year in a highest-need public school for each semester they received the scholarship. Recipients are not required to teach in the State of Florida.
If recipients do not graduate, leave the FIUteach program or do not teach in a highest-need public school, they will be required to repay the total amount of the scholarship received.
Noyce Scholars will be expected to participate in all Cohort Experiences while they are undergraduates. This includes, but is not limited to biweekly seminars and internships.
A highest-need school is characterized by at least one of the following:
A high percentage of individuals from families with incomes below the poverty line
A high percentage of secondary school teachers not teaching in the content area in which they were trained to teach
A high teacher turnover rate

Recipients also agree to:
Respond to survey requests
Maintain contact so that FIUteach can document the fulfillment of the teaching service obligation as required by the National Science Foundation

Time Frame for Completion; Reversion to Loan
Undergraduates must fulfill the service requirement within eight years after completion of the FIU undergraduate degree.
Funding reverts to a loan that must be repaid if the recipient:
Fails to maintain the required level of academic standing (2.5 cumulative GPA)
Is dismissed from the program or institution for disciplinary reasons
Withdraws from the program before completion
Declares their intent not to meet the service obligation
Fails to fulfill the teaching service commitment

If any of these circumstances arise before the completion of one academic year of the teaching service commitment, the total amount of the funds received must be repaid. If the circumstance arises after the completion of one academic year of the teaching service commitment, the amount to be repaid is a proportion of the total scholarship awards received, prorated to reflect partial service completed.
Annual Noyce Conference
The American Association for the Advancement of Science and the National Science Foundation are host an annual summit focused on Stimulating Research and Innovation for Preservice Education of STEM Teachers in High-Need Schools.
Invitees to this summit include NSF Noyce grantees; Representatives form NSF Noyce grantees partners, including school districts, educational agencies, community colleges and others; current and former Noyce Scholars and Fellows; science and mathematics educational researchers and evaluators; and representatives from education and professional societies.
Objectives of the summit are to:
Foster more research on STEM preservice teacher preparation for high-need schools, including research collaborations
Introduce teacher educators, researchers, current and former Noyce Scholars and others to research and ideas for research in this area
Share and exchange ideas from a working group on stimulating research in this area, including papers and resources
Exchange ideas about the NSF Noyce project's ongoing efforts to change science and mathematics teacher education programs, practices, and strategies for attracting, preparing, and supporting science and mathematics teachers and retaining them in the teaching workforce in high-need schools
Who was Robert Noyce?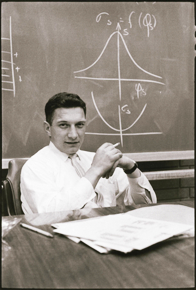 Robert Noyce (1927-1990), one of the two co-founders of Intel, is considered the father of the semiconductor industry. A man devoted to innovation and to education, Noyce stressed the importance of education and of preparing the next generation to thrive in a high-tech world. For this, of course, highly qualified STEM educators, passionate about their subjects, are absolutely necessary. The Robert Noyce Scholarship through the National Science Foundation is an important part of Noyce's determination to put his fortune to good use.
Noyce himself was, without the label, the embodiment of what has become a Maker mentality. Among his early accomplishments, according to his biography, were:
Building a radio from scratch
Motorizing his sled "by welding a propeller and an engine" from an old washing machine on the back
Wiring a "car headlight to a battery he found at the dump" as a hand warmer on cold winter mornings as he rode his paper route
At 13, building a box kite, strapping himself to the kite and the kite to the bumper of a neighbor's car

He also embodied what can happen in the absence of an outlet for the urge to tinker, to build, to make: "He spent much of the first semester of high school physics dismantling and rebuilding a watch under his desk during lectures," using a jeweler's loupe whenever the teacher wasn't looking. Despite the inattention, he "aced every test."

Noyce's biography, The Man Behind the Microchip: Robert Noyce and the Invention of Silicon Valley, was written by Leslie Berlin. "Silicon Valley," an episode of the PBS series The American Experience, is available for streaming through the University of Texas' Kanopy database.
The Robert Noyce Scholarship (award ID1660776) is funded by the National Science Foundation.